Do you want to experience a distinguished lifestyle near the Industrial Zone?
Faisal Hills Islamabad is here to put an end to your struggle. With 30,000 Kanal of land beside Margalla Hills, Faisal Hills is your new spot to enjoy natural living!
Finding an incredibly futuristic housing society with tons of amazing features and benefits is no longer a dream today. You can enjoy luxury living, lots of facilities, and much more by simply paying the amount you can afford.
Faisal Hills offers full-fledged ownership in the surrounding of the most sought-after city Islamabad, which is the world's second most beautiful capital with breathtaking views. It provides a unique blend of modern culture with different facilities in a Secure Gated Community. You can book your plot at Faisal Hills today and enjoy eco-friendly living in your own beautiful city Islamabad.
The team is fully focused on launching projects that embody unique design, high-quality standards, strong construction, and excellent project management skills that build a positive long-term impact on the Pakistani community.

Underground and overhead water tanks

NOC is the most important consideration of homeowners and investors as it proves that the society is fully-secure and their money will not be wasted on a society with a questionable reputation.
The No Objection Certificate (NOC) of this beautiful society is duly approved by the Rawalpindi Development Authority (RDA). They have approved 11823.5 Kanal of land for this society so that developers can offer residents a more extensive area of stay.
So, NOC approval is extremely important for both residential and commercial projects. It doesn't only offer credibility and reliability, but it also enhances the popularity and ensures a guarantee that the project is successful and reliable. Moreover, Faisal Hills has permission letters as well as no objective certificates for gas, water, and electricity which further makes it a secure and comfortable place for residents and commercial owners.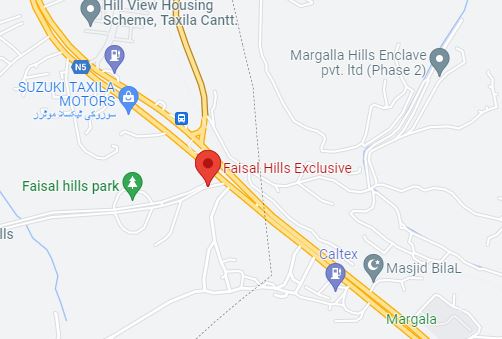 Are you an investor looking for a convenient location before investing your money? If so, then we can guarantee that nothing is more convenient and comfortable than Faisal Hills. It is located in the best place in a well-defined eco-friendly environment. 
Faisal Hills is located at quite an exquisite location in Islamabad right at the main Grand Trunk Road in the Taxila region of Rawalpindi. Faisal Hills Islamabad's location is extremely ideal for the residents of Rawalpindi and Islamabad. When you book your plot at Faisal Hills, you can easily access it from Taxila, Islamabad, Rawalpindi, and all surrounding areas.
Multi-gardens B-17, Tarnol, Wahdat Colony, Fateh Jang, CPEC Western Route, Comsats university Wah Cantt, and Hill View housing society are also popular nearby landmarks of the society which creates further attraction for residents and investors.
Faisal Hills Owners & Developers
Zedem International is a well-known company responsible for the development of Faisal Hills. The company is registered with the Securities and Exchange Commission of Pakistan (SECP) which has already worked with a lot of successful projects in Pakistan.
Have a look at a few of the projects completed by the company.
The company aims to offer a unique and high-quality lifestyle at reasonable costs and is responsible to provide timely delivery according to the client's expectations.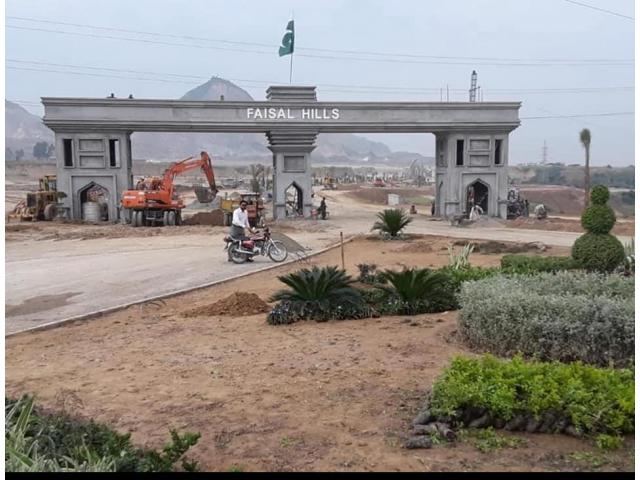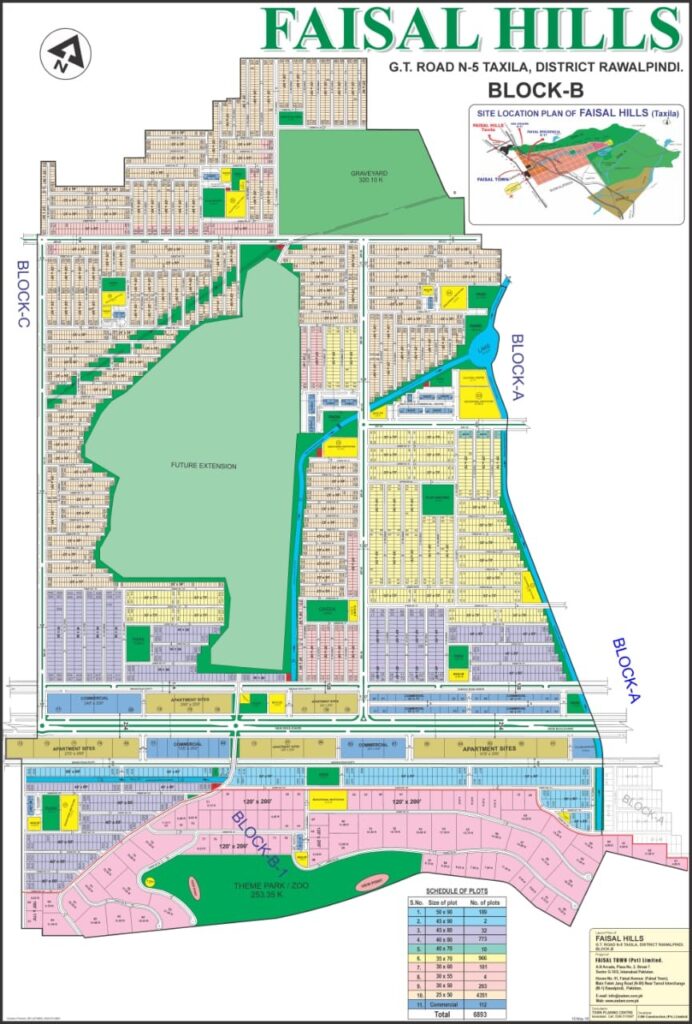 Faisal Hills Islamabad Masterplan
The master plan of Faisal hills is designed by the professional team of engineers, developers, and architects of Zedem International. The team has already given lots of brilliant projects that have become the epitome of success.
Faisal Hills cover 11823.5 Kanal of land. And most of it has been already utilized for both residential and commercial purposes. Different structures like parks, gardens, playgrounds, schools, mosques, kids' entertainment zones, hospitals, community centers, and other areas are also a part of this luxurious housing society.
The main boulevard of Faisal Hills is more than 225 meters wide, while the roads are up to 40 meters wide. To offer more ease and convenience to the residents, the housing society has four different blocks.
Plots for Sale in Faisal Hills Islamabad
If you are looking for plots for sale in Islamabad, then you can simply book them at residential and commercial blocks.
Interested to book residential plots in Faisal Hills Islamabad?
Have a look at the options and different sizes of plots available at Faisal Hills:
Commercial Plots at Faisal Hills
If you are a commercial investor, then you must be looking for different commercial plots for your business activities. Have a look at different commercial plots in Faisal Hills for your business.
Why Invest in Faisal Hills?
Faisal Hills is one of the most convenient societies in twin cities that is located at the main Grand Trunk Road in the Taxila region of Rawalpindi. You can find lots of popular residential and commercial areas in the vicinity of Faisal Hills which make it the most ideal society around. Different hospitals and universities are also located near the society due to which you can expect a high-quality lifestyle.
3 Easy Steps to Book Your Plot in Faisal Hills
If you want to book a plot in Faisal Hills Islamabad, then it's time to follow these easy steps for bookings.
Call us for some better investment opportunities.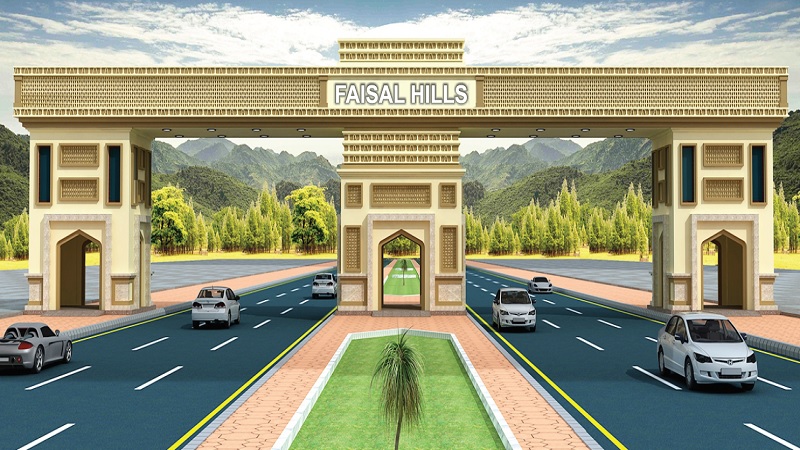 Follow Us Or Call us for some better investment opportunities.
Frequently Asked Questions
Faisal Hills Islamabad is a luxurious housing society that comes with 30,000 Kanals of land and comprises both commercial and residential plans that suit everyone's needs today. Due to the facilities and features provided by Faisal Hills, it has become a luxurious and reliable housing society.
Faisal Hills Islamabad offers a wide range of residential and commercial plots in different sizes depending upon the location of a block. The plots offered by Faisal Hills are 5 Marla, 8 Marla, 10 Marla, 14 Marla, 1 Kanal, and 2 Kanal.
If you want to know more details or the booking procedure for plots at Faisal Hills, you can simply reach out to our specialists at Benison Marketing.
Faisal Hills housing society is located in Taxila Rawalpindi. And its distance from Islamabad city center is only around 14 minutes drive.
Yes. Faisal Hills is located at the ideal location for twin cities which is connected to Rawalpindi, Taxila, and Islamabad. Due to its location and plenty of facilities, Faisal Hills has become a very lucrative investment option for all buyers and investors.
Its prices are expected to rise just after balloting and when the society will become a more popular place among residents and owners. This sounds like a good investment as Margalla Avenue will offer the housing project easy access.
Yes. Faisal Hills is divided into four different blocks. Block A, Block B, Block C, and Block E. Executive block is currently the newest addition in addition that offers further ease and convenience to the residents. However, A, B, and C were already launched and ready to book.
Yes. The society comprises a commercial area that features some tall and high-rise buildings as well as different community clubs. This makes Faisal Hills an ideal housing society for residents and commercial business owners.