Pakistan's Biggest Smart City for Investments!
Did you know Capital Smart City is the "First smart city" in Pakistan and the fourth one in Asia? Learn how it has captured lots of attention due to its surprising smart features.
Capital Smart City Islamabad is a luxurious high-level society that comprises a friendly environment, top-notch facilities, and modern infrastructure, and is packed with all the impeccable amenities that every buyer desire for luxury living.
The city has an impressive residential and commercial plan which is approved by CDA, which means this is the best investment opportunity for all who want to enjoy secure and comfortable living. The unique feature of Capital Smart City is, it is the first smart city in Pakistan and 4th in Asia. This makes it more valuable and popular among other housing societies in Pakistan.
This is the most famous housing society due to its modern infrastructure and unique development features. You can invest in the Capital Smart City Islamabad Residential and Commercial Properties to enjoy an idealized lifestyle. The payment plans of Capital Smart City are specially designed to suit everybody's budget.
Owners and Developers of Capital Smart City
Capital Smart City Islamabad is primarily a collaborative effort of two famous companies. It's a project launched by two competent real estate developers, Habib Rafiq Pvt. LTD and Future Holding Developments Pvt. LTD (FDHL).
Habib Rafiq developers have been in the building and construction industry for more than 50 years. After earning a good name and fame in construction, they entered into the housing development and infrastructure business about 15 years ago. The company has delivered a lot of successful projects and currently, they are one of the most trustworthy developers in the real estate world.
Future Development Holdings is also one of the best companies in Pakistan that have proven expertise in real estate and asset management. They have assisted a lot of other companies with different amazing projects like Smart cities. Currently, they are focused on offering luxurious and modern living with their lucrative contributions.
Location of Capital Smart City
Taj Residencia is a populated area. It aspires to provide a good life, hospitality, and a safe environment for its residents. Furthermore, the society is in a good position, next to CDA areas I-14 and I-15 and immediately adjacent to Link Road, making Islamabad easily accessible.
On the other hand, the Rawalpindi ring road will constitute an auxiliary access point shortly, leading to the Islamabad Motorway. In 20 minutes, you'll be at Centaurus Mall, 10 minutes at Islamabad airport, and 5 minutes at the Quaid-e-Azam International Hospital. This distance significantly increases the project's value.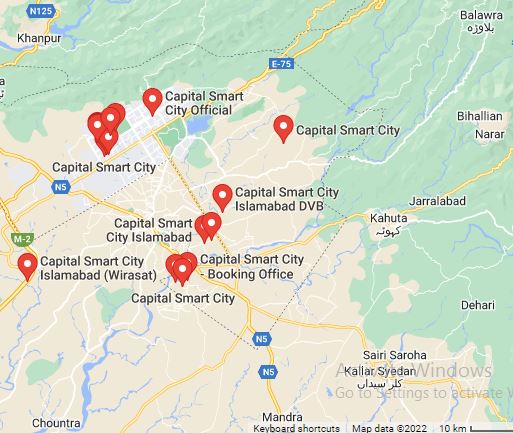 Green & clean environment

Smart and modern housing plans

24/7 gas, water, and electricity

Hotels, mosques, sports club

Moven picks hotels & resorts
Smart apps I-e weather, traffic, etc

Benefits You can Avail After Investing in Capital Smart City
Capital Smart City offers attractive future investments and tends to maximize efficiency in the lives of its residents
Opportunity for Overseas Pakistanis
Overseas Pakistanis can also invest in this smart city project and enjoy all the fruitful benefits it offers to the residents.
The capital smart city developed an overseas block at London Dorchester on 20th February 2018.
This is probably the first project that has introduced a well designed overseas block in any housing scheme in Pakistan. This block is exclusively reserved for people who are living abroad and have plans to stay in the country.
Capital Smart City also aims to provide a valuable investment opportunity for Pakistanis living in abroad. Thanks to its convenient location and multiple amazing amenities, the block has become the heart of Capital Smart City . In the future, the city will become an ideal future destination for Pakistanis who want to invest in the country for long-term benefits.
If you want to get more details about booking your residential plot in the overseas block, you can contact Benison Marketing specialists for further assistance. 5 Marla, 7 Marla, 10 Marla, 12 Marla, 1 Kanal & 2 Kanal plots are already available for overseas Pakistanis who may want to invest in the country.
Call us for some better investment opportunities.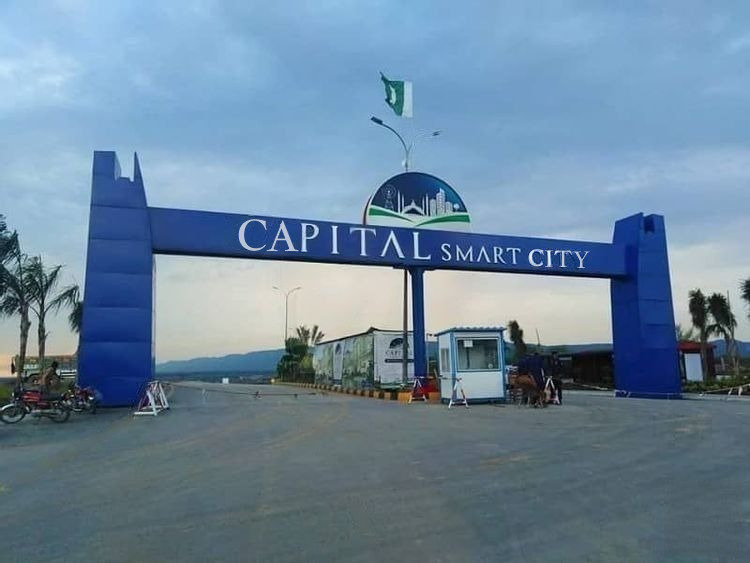 Capital Smart City Blocks
Capital Smart City is divided into two main blocks called the General block and the
executive block.
Differences Between Overseas Block and General Block
Harmony Park is currently the new addition to Capital Smart City which has now
become an ultimate favorite among all other blocks of this smart city. Buyers and
investors can choose considerable plots available at reasonable prices. This block is ideal for people who have a fixed monthly income. They can book 3.5 Marla plots in this block.
Besides, they also have a chance to book ready-made villas in this block. And they can book from one to three-bedroom apartments according to their requirements and budget.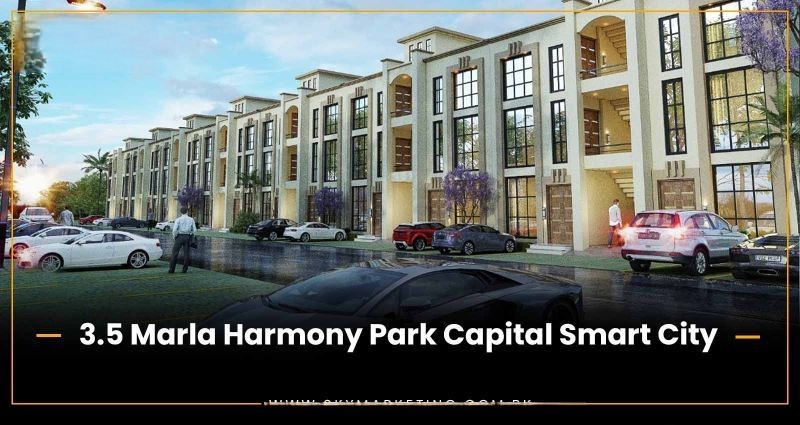 The "Smartness" of Capital Smart City Islamabad
Capital Smart City Islamabad is one of the first housing schemes in Pakistan that has come up with a unique concept of smart homes. For people who don't know about smart homes, this is a special feature that offers homeowners more control. They can control their house appliances using smartphones and other facilities. From controlling room temperature to gas sensors, and mobile sensors to security systems, everything is controllable with remotes and smartphones.
This smart technology delivers efficiency, reliability, and productivity. Due to these smart trends, it is justified that the futuristic housing project has already set a high benchmark for others
Types of Villas Available in CSC
Three types of smart villas are available in Capital Smart City
These villas have glass doors and windows that are designed in a very elegant style and bring all the light in. This is such a luxury accommodation best for an open floor plan along with a unique interior design. 5 Marla, 7 Marla, 10 Marla, and 12 Marla plots are available for booking in contemporary villas
The Mediterranean villas are designed beautifully and are a wonderful combination of Spanish and Italian designs. The villas have arched entrances, wooden pergolas, as well as terracotta roofs which are artistically blended into every home's architecture. 5 Marla, 7 Marla, 10 Marla, and 12 Marla plots are available for booking in Mediterranean villas.
Another amazing addition is Georgian Villas. These villas are also designed artistically to suit the needs of residents who want a fashionable lifestyle. 5 Marla, 7 Marla, 10 Marla, and 12 Marla plots are available for booking in Georgian villas.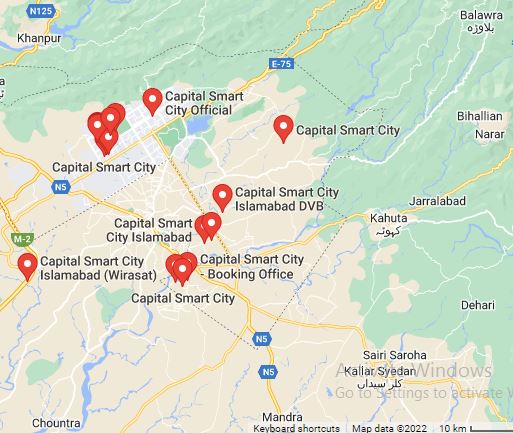 Accessibility to different important locations is also a considerable factor that cannot be ignored. Some accessible points from CSCI are
CAPITAL SMART CITY Is A Lifestyle
Destination For The Communities
This smart city project in Islamabad is 100% legal and approved by RDA.
Another feature that makes the society special is, it is the only society within the proximity that has received NOC from the authorities. The society has received its NOC in a record time which further clears that this is an authentic and trustable project among others in the twin cities. Because RDA takes some months to approve NOC but they managed to get it within a surprisingly short time.
Capital Smart City Master Plan
With the aim to develop strategic growth areas and attract future investments, the concept for CSC captures the radial growth pattern with large centrally located business district, well-distributed sub-centres and neighbourhood centres in periphery. A township model is proposed for CSC, guiding the master plan to facilitate traffic flow, offer diverse and affordable choices to nurture vibrant communities.

High to low density housing ranging from 5 Marla (125 sqyd) to 20 Kanal (10,000 sqyd) residential plots with convenient public facilities distribution across various neighbourhoods. This include Golf Course Community, Overseas Blocks, Mixed-use Waterfront Apartments, as well as Executive Blocks and Capital Hills.
Frequently Asked Questions
Society is best for both types of investment opportunities. The features and amenities won't disappoint you. Contact our team today and discuss your needs to analyze whether you should invest for short-term or long-term goals.
The Capital Smart City is based on a "smart" theme that follows the holistic approach of technology. Your appliances and internal systems run with apps and smartphones and you don't have to do much to take care of household chores. Society is planned strategically with a focus on your ease and convenience.
Of course, the society is officially permitted and NOC approved by RDA. The city is also approved by CDA, which makes it a secure investment choice for all.
The Capital Smart City is a self-sustaining housing scheme that comes with a lot of amazing smart features. The society offers tons of facilities including climatic control software, BRT system, free Wi-Fi, appliance control apps, surveillance system, traffic control applications, and many more.
You can book plots by following the below procedure:
• Contact our team and share your requirements
• Fill out our application forms
• Submit your documents and pay the down payment
• Once paid, you will get a receipt
• And then you will pay the rest of the amount in the coming months.
You need to pay a 10% down payment for booking your plot at Capital Smart City.
Call us Today to Book Your Plots at Capital Smart City Islamabad:
Capital Smart City has hit the ball out of the ground and is ready to serve all commercial and resident property owners. Most of the plots are sold, some of them are resold, and many plots are currently in the process. So, if you want a lucrative investment opportunity then no other housing scheme is better than Capital Smart City.
Still confused? No worries. Call our team today and get all the information for booking your plots at Capital Smart City.