Ideal lifestyle with modern architecture at cost-effective rates? Yes, it's possible now. Book your new home at Pavilion Executive which is a second-to-none choice that offers you the home of your dreams!
PAVILION EXECUTIVE – An Overview
It's no more a wonder that the real estate market in Pakistan is now witnessing marvelous progress day by day. S&S Builders – the founders of Pavilion Executive know what needs to be built to fulfill the dreams of today's modern residents who want nothing but a peaceful, eco-friendly, comfortable, and well-equipped housing society that offers reasonable price structures affordable for every budget.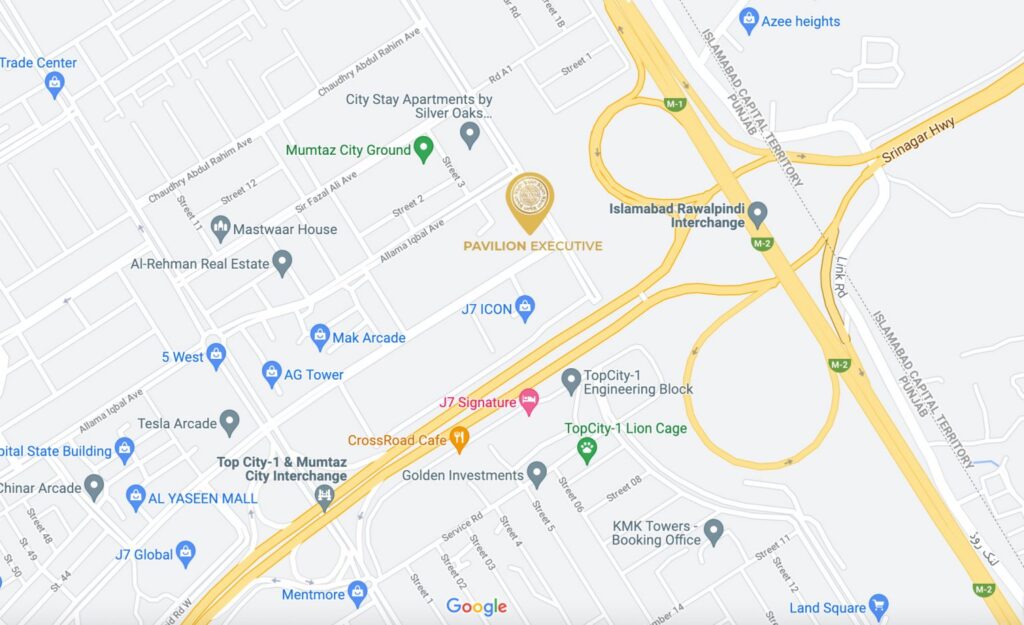 Location of Pavilion Executive
Pavilion executive is located at the most prestigious location in Islamabad. Situated in Mumtaz City, the society is only 4 minutes away from the new Islamabad airport. So, you can imagine the investment potential of society and how it can be beneficial for investors and buyers in the future.
Some accessibility points are
Why do Investors Prefer Pavilion Executive?
The owners and developers of Pavilion Executive left no stone unturned to make it an ideal real estate project for both local and overseas Pakistanis. The project's unique features and prime location along with top-notch infrastructure allure everyone from small investors to buyers of all budgets. This makes it a hotspot in twin cities that offers plenty of advantages to everyone.
Have a look at a few elements that further make it a successful project in Islamabad.
Call us for some better investment opportunities.
Legal Status of Pavilion Executive
We all know that most housing societies face several legal issues when it comes to obtaining the NOC for society. Obviously, this is the most significant thing for both investors and buyers who plan to invest a huge amount in society.
In the case of Pavilion Executive, you don't have to worry at all. The society is fully approved by RDA, which makes it an ideal investment choice for all.
Boutique Restaurants/Cafe

Why Should You Invest in Pavilion Executive?
Did you know most investors have spotted Pavilion Executive as the gold digger society? The reason is, they are anticipating more than 15% profits which are quite big in the world of real estate. Let's find out some more reasons to choose Pavilion Executive.
How to Book a Plot in Pavilion Executive?
Are you interested in booking a plot at Pavilion Executive? If yes, then now is the time to avail this opportunity. Have a look at the procedure for booking a plot with Benison Marketing.
Interested to Invest in Pavilion Executive?
What Makes Pavilion Executive a Better Investment Option in Islamabad?
Pavilion Executive is one of the glorious developments by S&S Developers. Due to modern-day amenities and high-standard living, many buyers and investors consider Pavilion Executive for long-term profits.
Unlike others, the remarkable society offers a continuous supply of gas, water, and electricity. Have a look at a few more elements that make society the best investment option in Islamabad.
Documents Required for Booking
You will be required to submit the following documents for booking a property in Pavilion Executive.
Want to Choose the Safest Investment Option for the Future?
If yes, then Pavilion Executive is right here to make you feel secure in the long run. Yes! investing in commercial properties has become one of the safest business options to protect your finances.
Now you can invest in plots, houses, commercial buildings, shops, and any property type that suit your needs and preferences.
Contact our expert team at Benison Marketing and discuss your needs before investment. We will guide you throughout and help you decide wisely.
Frequently Asked Questions
Have some more questions in mind? We would love to answer
Pavilion Executive is located at a very ideal location near Islamabad airport. It offers easy access to M1 and M2 motorways and is only 4 minutes away from the airport.
Yes. It doesn't only intrigue local investors but international buyers also consider it an ideal project due to its convenient location and unprecedented status in Islamabad.
Yes, it is. Pavilion Executive features rooftop gardens and lush green parks which offer healthy and peaceful living.